Group Coordinator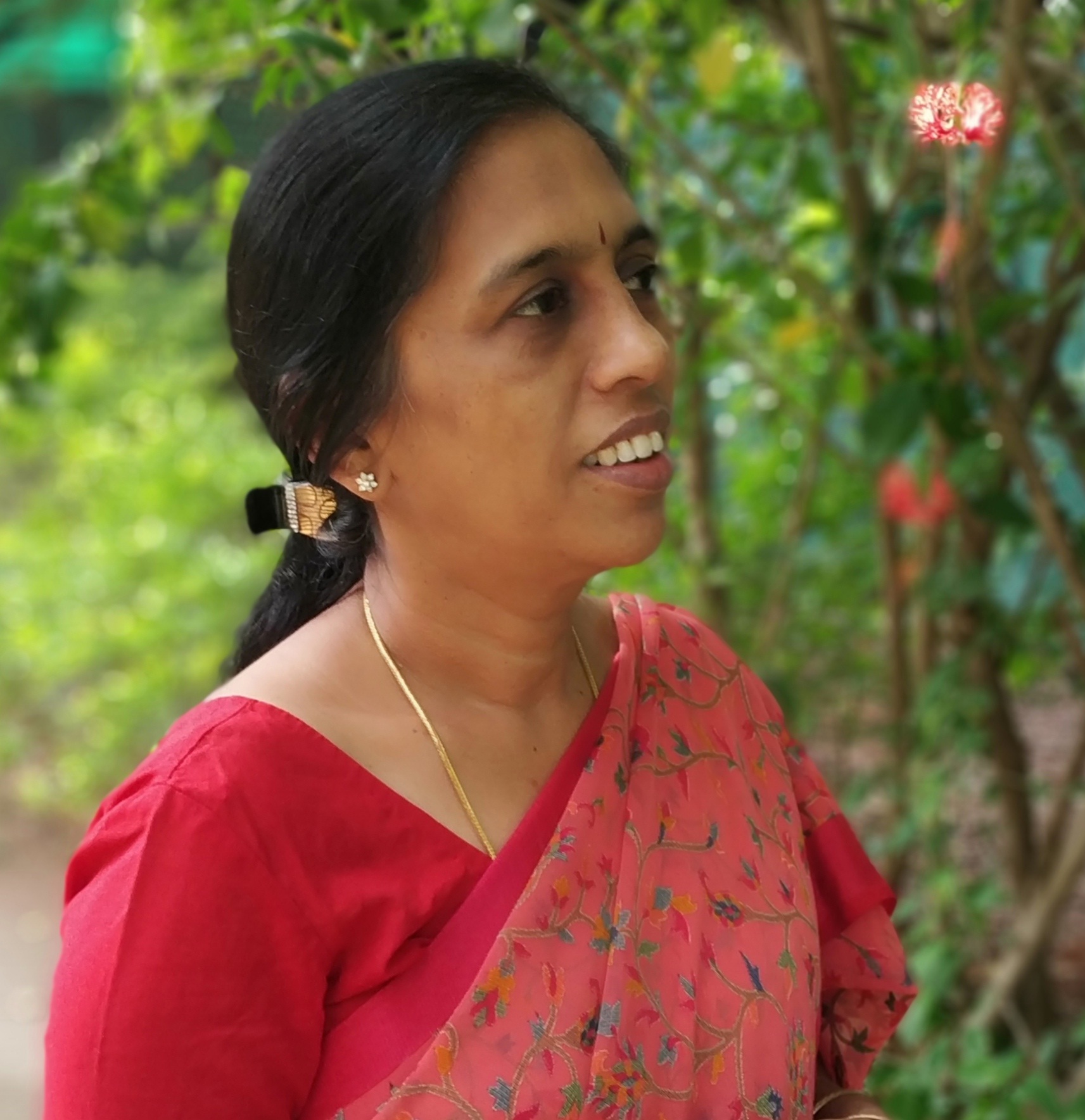 Dr. R. Yasodha
Group Co-ordinator Research & Scientist G,
Institute of Forest Genetics and Tree Breeding,
Forest Campus,
R.S. Puram,
Coimbatore,
INDIA - 641 002
Telephone: +91 422 2484114. Fax: +91 422 230549.
Email: groupco_ifgtb[at]icfre[dot]org, gcr_ifgtb[at]icfre[dot]org
Research Interests
Tissue culture and clonal production
Application of DNA markers in tree improvement
Genomics based solutions for conservation and tree breeding
Awards
Received (a team of six researchers) Forest Biotechnology award from ICFRE (awards for the excellence) for the year 2001-2002.
Patent
Obtained a Patent (a team of four researchers) on "A process for in vitro plantlet production of the bamboo, Oxytenanthera stocksii" The patent was granted on 31.08.2006 for a term of 20 years. The financial support was granted by the National Research Development Council (NRDC), New Delhi.
Consultancy
A consultancy was provided on DNA profiling of Acacia hybrids and Eucalyptus species was provided to Mysore paper mills Ltd., Bhadravathi, Karnataka during 2009 to 2010.
Selected Recent Publications
Yasodha R, Galeano E and Win TT (Eds) (2021) The Teak Genome. Springer International Publishing Switzerland AG, p. 265. doi: 10.1007/978-3-030-79311-1.

Maheswari P, Kunhikannan C, Yasodha R (2021) Chloroplast genome analysis of Angiosperms and phylogenetic relationships among Lamiaceae members with particular reference to teak (Tectona grandis L.f). Journal of Biosciences. https://doi.org/10.1007/s12038-021-00166-2.
Swathi Balakrishnan, Suma Arun Dev, Ambothi Rathnasamy Sakthi, Balasubramanian Vikashini, Reshma Bhasker T, Nochyil Sivan Magesh & Yasodha Ramasamy (2021). Gene-ecological zonation and population genetic structure of Tectona grandis L.f. in India revealed by genome-wide SSR markers. Tree Genetics & Genomes 17, 33 https://doi.org/10.1007/s11295-021-01514-x.

Subashini V, Bachpai VKW, Mayavel A, Nagarajan B, Sivakumar V,

Yasodha R (2018) Quantitative trait loci (QTL) for salinity tolerance traits in interspecific hybrids of Eucalyptus. Indian Journal of Plant Physiology. https://doi.org/10.1007/s40502-018-0403-7.
Sumathi M, Bachpai VKW, Deeparaj B, Mayavel A, Dasgupta MG, Nagarajan B, Rajasugunasekar D, Sivakumar V, Yasodha R (2018) Quantitative trait loci mapping for stomatal traits in interspecific hybrids of Eucalyptus. J Genet. 97(1):323-329.
Yasodha R, Vasudeva R, Balakrishnan S, Sakthi A. R., Nicodemus A, Nagarajan B, Rajashekar B, Bachpai VKW, Pillai PKC, Dev SA (2018) Draft genome of a high value tropical timber tree, Teak (Tectona grandis L. f): Insights into SSR diversity, phylogeny and conservation. DNA Research 25 (4), 409-419.

Sumathi M, Bachpai VKW, Mayavel A, Dasgupta MG, Nagarajan B, Rajasugunasekar D, Sivakumar V, Yasodha R (2018) Genetic linkage map and QTL identification for adventitious rooting traits in red gum eucalypts. 3 Biotech, 8(5):242. doi: 10.1007/s13205-018-1276-1. Epub 2018 May 8.

Sumathi M, Yasodha R (2017) Microsatellite allele length variations in inter-specific hybrids of Eucalyptus. Acta Botanica Croatica 76 (1), 103-106.
Shanthi K, Bachpai V. K. W., Anisha S., Ganesan M., Anithaa R. G., Subashini V., Chakravarthi M., Sivakumar V, Yasodha R (2015) Micropropagation of Eucalyptus camaldulensis for the production of rejuvenated stock plants for microcuttings propagation and genetic fidelity assessment. New Forests. DOI: 10.1007/s11056-014-9465-1.

Modhumita Ghosh Dasgupta and Yasodha R (2014) DNA Markers in Tree Improvement of Tropical Plantation Species. In Tree Biotechnology (eds: K. G. Ramawat Jean-Michel Merillon M. R. Ahuja) CRC Press 2014, DOI: 10.1201/b16714-24.

Sumathi M and Yasodha R (2014) Microsatellite resources of Eucalyptus: current status and future perspectives. Botanical Studies 2014, 55:73
Shanmugapriya A., Bachpai VKW., Ganesan M., Yasodha R. (2014) Association analysis for Vegetative Propagation Traits in Eucalyptus tereticornis and Eucalyptus camaldulensis Using Simple Sequence Repeat Markers. Proc. Natl. Acad. Sci., India, Sect. B Biol. Sci. DOI 10.1007/s40011-014-0360-5.
Shanmugapriya A. and Yasodha R. (2014) Unique Pattern Information Combinations for Clonal Discrimination in Eucalyptus camaldulensis using Microsatellite Markers. Indian Journal of Biotechnology Vol 13, pp 75-80.
Subashini V., Shanmugapriya A and Yasodha R (2013) Hybrid purity assessment in Eucalyptus F1hybrids using microsatellite markers. 3 Biotech 08/2013;DOI 10.1007/s13205-013-0161.
Chezhian P, Yasodha R, Ghosh Dasgupta M. (2012) Molecular Discrimination of Eucalypt Clones Using the ISSR Marker System. Journal of Sustainable Forestry 31 (6) 537-548.
Arumugasundaram, S. , Ghosh, M, Veerasamy S, Yasodha R (2011) Species discrimination, population structure and linkage disequilibrium in Eucalyptus camaldulensis and Eucalyptus tereticornis using SSR markers. PLoS ONE 6:12, OI: 10.1371/journal.pone.0028252.
Ghosh, M., Chezhian, P., Sumathi, R., Yasodha, R (2011) Development of SCAR marker in Casuarina equisetifolia for species authentication. Trees - Structure and Function 25 (3) pp. 465-472.

Yasodha R,

Kamala S, Kalaiarasi K (2010) Anatomical and Biochemical Changes Associated with in vitro Rhizogenesis in Dendrocalamus giganteus. Journal of Plant Biology and Biochemistry 19, 217-222. https://doi.org/10.1007/BF03263343.
International Visits
Study tour on tree crop improvement sponsored by MoEF/USAID/USFS to USA from 2-12 September 2014.

Participated in

XXIV IUFRO World Congress at Salt Lake City, Utah in USA held from 5-11 October 2014 with the theme of "Sustaining Forests, Sustaining People: The Role of Research".

Participated in

XXIII IUFRO World Congress at Seoul, Republic of Korea held from 23 to 28 August, 2010 with the theme of Forests for the future: Sustaining Society and the environment.

FAO Fellowship

on Forest Genetics, University of Melbourne, Australia,

April 1995- July 1995 under World Bank-FREE Project.