MICROSCOPY ROOM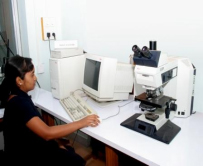 Sl. No.
Model
Type
Year of Purchase & Approx. Cost
Magnification
Purpose for which it is used
Attachments
1.
Leica DMRBE microscope with image analyzer
Trinocular
1996
5.0 lakhs
6 x (X)
100 x
Image analyzing of pollens
P-3 Computer, Leica camera with 10 X zoom lens.
2
Nikon-Optiphot Fluorescent and Phase contrast
Compound
1992
10 x (X)
100 x
analyzing of pollens
Camera UFDX – DX, Filters UV 2A, B2A, opti zoom, mercury lamp holder, UV transmission fitting
3
Nikon – SM2
Stereo Microscopes
1996
5.0 lakhs
10 x (X)
1x
Image analyzing of pollen parts
Camera UFX - DX, Cold light system, 5X, 10X , 20X lens.
4.
Leica Wild MPS 52
Binocular
1993
1, 27, 936
10 x (X)
40 x
To examine the insect pest and diseases, specimens of plant materials
Leica Camera and CCTV, 5X, 10X, 20X, 40 x and 100 X lens
5.
Leica M4 20
Stereo Microscopes
1991
1,82,782
10 x (X)
1x
Insect morphology and pathology studies
Wild Camera M420
6.
Leica
Bio med
Binocular
1993
1304.00DM
10 x (X)
100x
VAM spore identification
No attachments
7
Wild model M 32 zoom stereomicroscope
Stereo Microscopes
1993
5810 SFR
10x – 21 x
For counting microbial colonies
No attachments
8
Leitz Microscope
Compound
1994
10 x (X)
1x
For counting microbial colonies
No attachments
9.
Phase contrast Microscope
Nikon
Compound
1995
4,25,000
10 x (X)
100 x
For microscopic studies of seeds
Nikon FM 2 Camera
NURSERY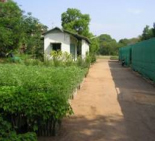 A model nursery complex with an annual production capacity of 5 lakh planting stock, with a complete array of modern vegetative propagation structures viz., Green House, Shade House, Mist Chamber as well as low cost poly tunnels and captive clone banks of Azadirachta indica, Tamarindus indica, Casuarina equisetifolia andEmblica officinalis functions under the division.
The various field stations of IFGTB located at Panampally & Walayar in Kerala and at Salem & Coimbatore for housing Institute's field trials are being managed by the Forestry Land Use and Climate Change Division.
VEGETATIVE PROPAGATION COMPLEX
The Vegetative Propagation complex, situated in the IFGTB Campus spread in about 9792 square meters, it consists of shade house (961 Sq. m), mist chambers (4 no.) one walk-in-poly tent, poly tunnels and water treatment plant. The facility is utilized for hardening of tissue culture raised plants and clonal propagation of mandatory tree species like Casuarinas, Eucalypts, Teak, Bamboos and some medicinal plants. Germplasm collections for Casuarina, acacia hybrids, eucalyptus and bamboos are available.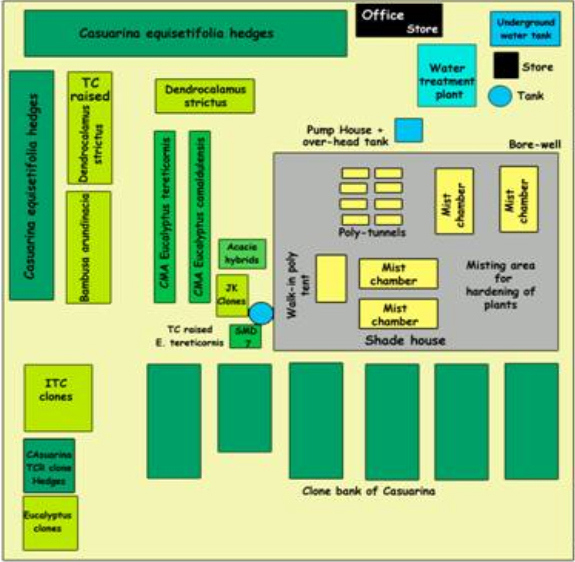 GLASS HOUSE CUM NET HOUSE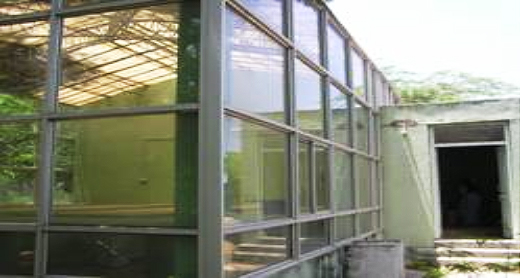 The glass cum net house has the following structures such as (a) Ante room, (b) Preparation room and (c) Maintenance room. The total area of the glass cum net house is 15 m x 7.5 m.
The main objectives of the glass house are to carry out pathological studies under controlled conditions (free from any contaminations) and also pure culturing and maintenance of various Biofertilizers including VAM fungi. The following experiments can be conducted in the glass house:
Conducting pathogenicity tests i.e., to test the pathogens isolated from the diseased samples for confirming their pathogenic virulence.
In vitro screening of seedlings, saplings, clonal materials etc against the targeted plant pathogens under controlled conditions.
Pure culture production of VAM fungi using suitable host cover crops and maintenance of the same.
Mass multiplication of different VAM fungi using suitable carrier materials and host plants.
Evaluation of efficacy of different VAM fungi on growth improvement of various tree species in controlled conditions.
Evaluation of efficacy of different Ectomycorrhizal fungi on growth improvement of various tree species in controlled conditions.
MIST CHAMBERS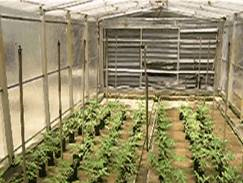 Mist chambers and poly tunnels are being utilized for maintaining ambient humidity and temperature for rooting of cuttings of Eucalyptus, Casuarina, Bamboos and medicinal plant species. The facility is also utilized for
ex-vitro
rooting of tissue-cultured plants of Bamboos and other species. There are 5 mist chambers with following
dimensions.
Size 31.5 Sq.m: 1 No.
24.75 Sq.m: 3 Nos.
18.00 Sq.m 1 No.
SEED BANK