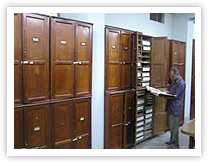 The herbarium (acronym FRC) established in 1911 and houses very valuable collections of C.E.C. Fischer, T.F.Bourdillon and M. Rama Rao from Andhra Pradesh, Karnataka and Tamil Nadu and Kerala. Presently, the herbarium has a collection of 15881specimens of 3259 species, 1329 genera belonging to 172 families including thousands of recent collections with ISOTYPES of Syzygium occidentalis (Bourd.) Gandhi; Syzygium chavaran (Bourd.) Gamble: Syzygium rama-verma (Bourd.) Chithra; Albizia sikharamensis Sahni & Bennet; Plectronia pergracilis Gamble; Aundinella vaginata Bor; Garcinia imberti Bourdillon; Theriophonum fischeri Sivadasan et Nicolson; Diospyros sulcata ssp. rova Bourdillon; Crotalaria bourneae Fyson. Several students and research workers from different universities and research organizations of the region are utilizing these facilities.. All the specimens in herbarium have been digitized. This will facilitate the use of herbarium images using computer for identification and confirming the identity.
Botanical Garden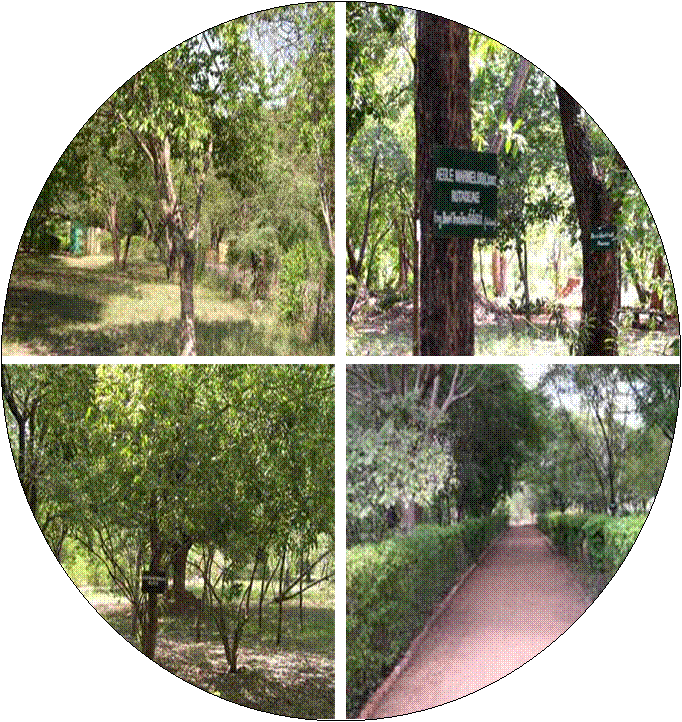 The institute is maintaining a botanical garden established in 1973 with an area of 3.7 ha which supports all ex-situ conservation activities. The aim of establishment of this is to serve as means of introducing plants of botanical, economic, forestry and horticultural interests, A centre for the dissemination of scientific, technical and popular information about plants and their cultivation, valuable supplement to nature study and botanical work to serving forest and research staff and students of botany in schools and colleges. Besides undertaking research on introduction and multiplication of plant species including medicinal plants, the collection in the garden make people aware of availability, cultivation and uses of common trees, medicinal and ornamental plants.
The Garden maintains more than 110 species of trees, 90 species of medicinal plants 5 species of bamboo and several ornamental plants. Different part of the garden is demarcated for different plant groups like fruit yielding, Bamboo, medicinal plants, cactus and succulents, acacias etc. A green house of size 40' x 20' with an arched weld mesh roof over which herbaceous climbers are grown for keeping orchids and ferns also located in the garden.